COLD ROOMS & FREEZER ROOMS
We specialize in the following areas in refrigeration:
Cold rooms
Freezer rooms
Butcheries
Abattoirs
Dairies
Container Type rooms
Isolated trailers
Glass door chillers and freezers, etc
Cold Room Container

We manufacture and supply various types of container cold rooms and freezer rooms, we do have 3 standard size containers, 12ft, 20ft & 40ft units, however we also customize containers to client specification, cold room containers are perfect for temporary use as a substitute for a fixed cold room, cold room containers can be easily moved with a low bed trailer.
Mobile Cold Rooms & Freezer Rooms

We manufacture mobile cold room trailers to our clients needs and requirements, this is a booming industry due to the return on investment this business tool provides, the cold room trailers are perfect for the use of the following events:
Weddings Funerals Sports events
Private parties Hunting Bush events
Outdoors events Small mobile business Music festivals
Biker rally's Flea markets Functions
The potential for a cold room trailer is endless as you can see above, you can use a cold room trailer anywhere in the country to refrigerate all types of products and make money out of them as well, the only requirement for a cold room trailer is a stable stand and a 220V power supply.
Abattoirs & Larger Cold Rooms & Freezer Rooms

We manufacture and install all types and sizes of cold rooms and freezer rooms, we are pleased to say that our clients get exactly what they request. We manufacture these cold rooms or freezer rooms to our clients specifications. There are many different types & sizes of cold rooms and freezer rooms, to us their is no job to big or to small. Our panels are made of polystyrene and chromodeck cladding and we use only the best refrigeration (industry leading) equipment.
240 Ton Freezer Room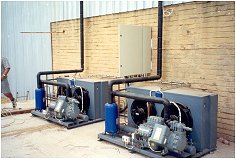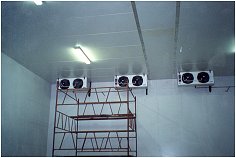 Above is a large 240Ton freezer room, it is very important to do regular services to such large freezer rooms to make sure it doesn't break down with thousands of rands of frozen product inside. Naturally this large freezer room functions with more than one refrigeration unit to make sure that a acceptable temperature can be maintained, more than one unit also serves as a back up unit, should there be any break downs on either one of them, but it is still important to maintain and service the freezer room regularly.
Cold Room Shelving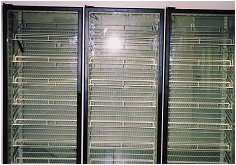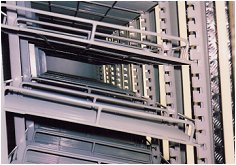 We supply and install many types of glass door display fridges and freezers.
For any type of cold room or freezer room requirements, please do not hesitate to contact us for more information or a quotation, we guarantee our workmanship and we strive to keep our prices affordable.